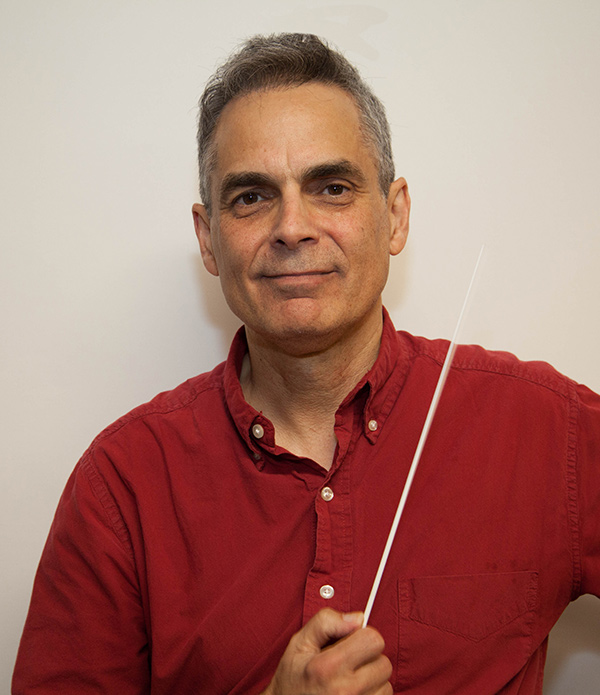 Mark Rudoff
Music Director/Conductor
Mark Rudoff has spent his entire life in and around orchestras: as a kindergartner he spent Saturday mornings observing his parents' Indianapolis Symphony dress rehearsals; he conducted his first orchestra rehearsal when he was 13 and his first concert at 17; and has performed in the cello sections of the full range of professional orchestras, from the New York Philharmonic to the Red Deer Symphony. He served as principal cello of the Calgary Philharmonic, Saskatoon Symphony, and Brandon Chamber Players, and has performed under conductors including Leonard Bernstein, Zubin Mehta, Lukas Foss and Kazuyoshi Akiyama. Mark is Professor of Cello and Chamber Music at The Ohio State University School of Music, a position he previously held at Brandon University in Manitoba, Canada. He has led the orchestras at Brandon University and Ohio State, as well as the Winnipeg Youth Symphony and Saskatoon Strings of the Saskatoon Youth Orchestra. His work as a guest conductor and orchestra clinician includes invitations from the Saskatchewan Honor Orchestra, Long Island String Festival, Grand Valley State University, Regina Conservatory, and Toronto Kiwanis Music Festival.
Mark earned Bachelor's and Master's of Music degrees from The Juilliard School, studying under Lynn Harrell, Harvey Shapiro, Joel Krosnick and Lorne Munroe, and graduating with the Edward Steuermann Prize. Mark also holds a Bachelor of Laws degree from the University of Saskatchewan, where he was appointed to the editorial board of the Saskatchewan Law Review and graduated with distinction in 1990.
Gerry Doan
Music Director Emeritus
The 2016-2017 season marked GERRY DOAN's thirty-fifth season and final season as CCO's conductor and musical director. Under Dr. Doan's leadership, the CCO has undergone tremendous growth in both membership and musicality, tackling works that were once thought to be "too difficult" for a community orchestra. He has lead the CCO in well over one hundred performances at multiple venues and with dozens of Cincinnati's best professional soloists. He helped CCO celebrate it's 50th anniversary in May of 2004 with a gala performance at CCM's Corbett Auditorium. His time as Musical Director has introduced nearly 500 new compositions and almost 100 new soloists to CCO's members and audiences.
In another life Gerry taught school musicians for 38 years before retiring in 2003. For 24 of those years he was Professor of Music Education at the College-Conservatory of Music, University of Cincinnati, where he trained band and orchestra directors. He continues as conductor of the preparatory department's Cincinnati Junior Strings orchestra (for 9 to 14 year old musicians). He has conducted that group during tours of New Zealand, Australia, Hong Kong, Singapore, China, Malaysia, England, and Ireland. Dr. Doan also conducts each January at the Pan Pacific Music Festival in Sydney, Australia and has served as Conjoint Professor of Strings at the Newcastle Conservatorium of Music. "Leftover" time is spent as a professional violist, a studio teacher, and as an arranger of works for string orchestra.
Gerry's educational background includes degrees from Ohio Wesleyan and Ohio State Universities. He taught in the public schools of Bedford/Mt.Kisco, N.Y. and Marion, Ohio before turning to college teaching at Ohio State University, Adrian College (Michigan), and at CCM.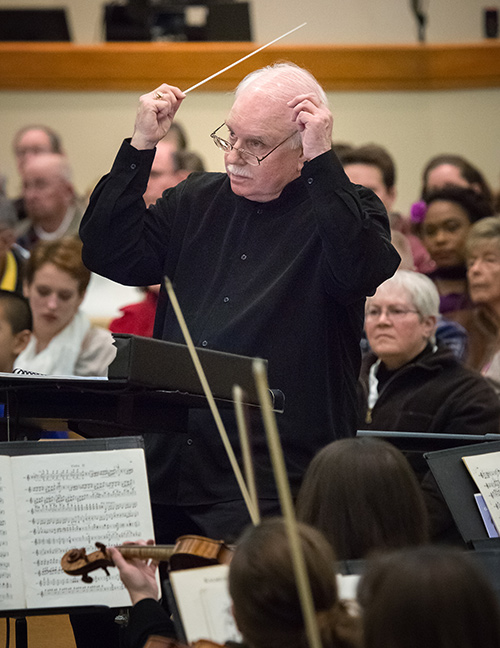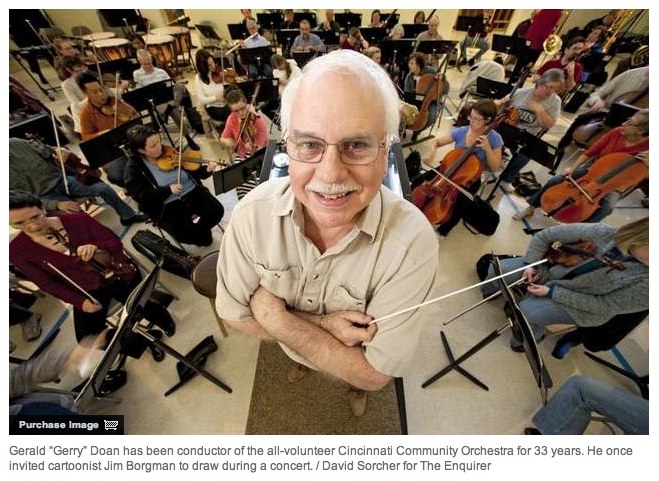 Cincinnati Community Orchestra
about Us
The Cincinnati Community Orchestra has more than 80 amateur and professional musicians who represent many occupations, professions, and ages, rehearsing once each week from September to May.