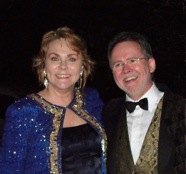 Here are the bios for the two wonderful soloists who will be performing with us in the December concert! Please, join us on December 3 to hear Ghillian Sullivan sing and see Ian Cook guest conduct the CCO!
GHILLIAN SULLIVAN (SOPRANO)
After many years singing leading roles in European opera houses, Ghillian became a popular leading lady with Opera Australia, at the Sydney Opera House, state companies, and the ABC Orchestras.
Ghillian began her career at Glyndebourne in England, where she sang with leading conductors of the day, then moved to Germany to sing in many opera houses including Koln, Wiesbaden, and further afield in Paris, Moscow, Leningrad and Kiev.
She has over 40 major roles in her repertoire, among them La Traviata, Lucia, Mimi, Gilda, Donna Anna, Donna Elvira, Konstanze, both Susanna and Countess Almaviva, Leila in Pearlfishers, Adina in The Elixir of Love, Rosalinde in Die Fledermaus, Marguerite in Faust, The Governess in The Turn of the Screw, and others by Richard Strauss, Wagner, Handel, Kalman and Lehar.
Ghillian has wide knowledge of Lieder, Chanson and English Song, plus Gilbert & Sullivan, Music Theatre and American Musicals.
Ghillian translates and directs productions for her Company, NEWCASTLE FESTIVAL OPERA, where young artists perform roles with professional mentors. She teaches voice production and gives Opera Performance Summer Schools, with professional colleagues, in Brisbane, Sydney, Adelaide and Newcastle. See www.nfopera.com.au
IAN COOK (CONDUCTOR)
Dr. Cook is a senior lecturer in Clarinet and the Conductor of the Wind Orchestra in The School of Drama, Fine Art and Music, University of Newcastle. He has been the Director of The University of Newcastle Wind Orchestra since 1981. Formerly a graduate from both Newcastle Conservatorium and the Sydney Conservatorium Ian completed his Master of Music at the University of Newcastle in 1999 specializing in conducting. His mentor has been Myer Fredman former Head of the Music Staff at Glyndebourne Opera (UK) and Head the Opera School, Sydney Conservatorium. Maestro Fredman is a leading authority in the interpretation of Mozart operas. Ian was awarded his PhD from The University of Newcastle with his research topic of the Tempo Indications of Mozart.
In addition to his work at The Conservatorium, Ian is actively involved with guest conducting and workshops relating to wind bands. His other interests include music- theatre and opera. Ian's repertoire includes The Magic Flute, The Marriage of Figaro, Don Giovanni, Cosi fan tutte, La Belle Hélène, HMS Pinafore, The Pirates of Penzance, The Mikado, The Merry Widow and Sweeney Todd. In 2008 he conducted the Australian premiere of Leonard Bernstein's Wonderful Town, for Newcastle Festival Opera. For the 30th anniversary of the creation of The University of Newcastle Wind Orchestra, Ian presented the Australian premiere of the exhilarating Queen Symphony in 2009. In 2010 he conducted Kurt Weill's The Threepenny Opera and La Boheme. The year concluded with a wind orchestra arrangement of Carl Orff's Carmina Burana with the Newcastle University Choir. Earlier this year he conducted The Gondoliers and in July this year Ian fulfilled a long held dream to conduct Leonard Bernstein's Candide.  Ian is very pleased to be here in Cincinnati and being able to share the concert platform with long time friend and colleague Dr Gerry Doan.