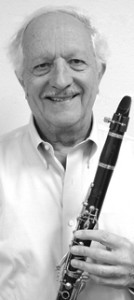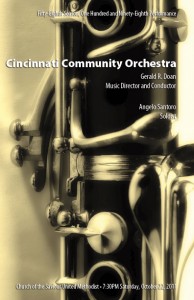 Our fall concert is coming up! Please join us on Saturday, October 22nd at 7:30 PM. We will be featuring the CCO's own Angelo Santoro as soloist.
Mozart – Symphony No. 32 in G major
Haydn Symphony – No. 96 in D major "the Miracle"
Debussy Premier Rhapsody For Clarinet & Orchestra (with Angelo Santoro – clarinet)
•••••interval•••••
Tschaikowsky – Symphony No. 5 in e minor
About our soloist:
Angelo Santoro was born of Italian immigrant parents. His father was a tailor and his mother a homemaker and artist. He was raised in the neighborhood of Oakley in Cincinnati, attended Oakley Elementary School and Withrow Junior/High School. His educational life at Withrow High was truly the highlight of his early years, a time for growing and gaining confidence in a school devoted to quality, spirit and great music. He was influenced by a musical family and at an early age began piano lessons (age 6) and clarinet (age 9). During high school he studied clarinet at the original Conservatory of Music and studied piano with Dorothy Payne. His interest in mathematics led to college studies in engineering at the University of Cincinnati where he graduated in 1958 with Bachelor of Science in Civil Engineering. He is a professional engineer, professional surveyor, state certified building official and owner of Santoro Engineering Company founded in 1963. The company provides professional services in surveying, planning, design, engineering and management.
Angelo is an avid clarinetist and pianist. He is principal clarinetist with the Cincinnati Community Orchestra, the Hamilton-Fairfield Symphony Orchestra, and the Clermont Philharmonic Orchestra. He has served as president of the CCO and played with that orchestra since 1979.
He has two daughters, twin sons and fifteen grandchildren. In addition to his serious musical avocation he enjoys traveling, swimming, mountain hiking, playing football and baseball with his children and now grandchildren, and cooking Italian food for family and friends.