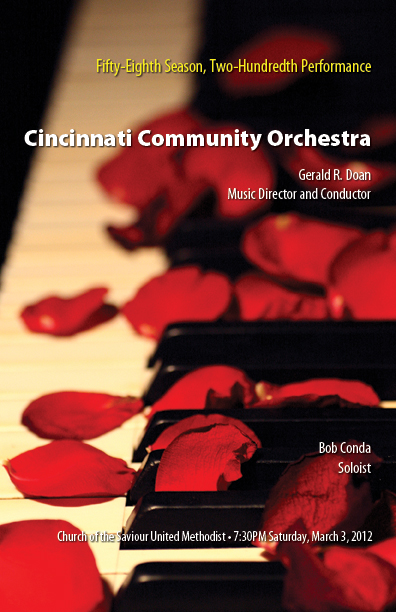 (with Bob Conda – piano)
Mozart – Overture to Don Giovanni
Tschaikowsky – Piano Concerto in b flat minor
•••••interval•••••
Brahms– Symphony No. 2 in D major
Soloist Bio – Bob Conda
Pianist Bob Conda grew up in South Jersey, but typical boyhood activities often superseded practicing. Thankfully, he had good teachers. Bob's sister Debbie taught him note reading and keyboard geography, and there were excellent band directors at both his middle school and high school. But piano teacher Mary Giovanetti trumped them all. Blessed with unlimited musicality and patience, she helped Bob prepare his college audition, and off he went to West Chester University of Pennsylvania.
As student of Dr. Robert Bedford, Bob made rapid progress. He received several awards, including concerto performances with both the WCU Chamber and Symphony Orchestras. Upon graduating, Bob went on to study with Dr. Henry Doskey, earning a master's degree from East Carolina University. Post-graduate study with Dr. Jane Magrath (University of Oklahoma) led to Bob's appointment as staff accompanist at the University of Louisiana-Lafayette School of Music.
Since moving to Ohio, Bob's musical activities have been varied. First and foremost, he is privileged to serve as accompanist to many of the finest young musicians in the greater Cincinnati area. He is involved in children's theater, playing annually for the 8th grade musical at St. Catharine of Siena School, and for the summer theater program 'KidzShow'. He is the pianist for the Cincinnati String Academy, is one of several ballet pianists for CCM's Dance Department, and is a former organist/choir accompanist at Ascension Lutheran Church. Bob also collaborates with some of the area's leading professional musicians, most notably Dr. Michelle Conda. Bob and Michelle frequently perform as piano duettists, and they have shared the Cincinnati Community Orchestra keyboarding duties for over 15 years.
Bob currently lives in Westwood with his wife Michelle and their son Nicholas. He is active in the music ministry at St. Catharine of Siena Parish, and enjoys being an Elder dad.